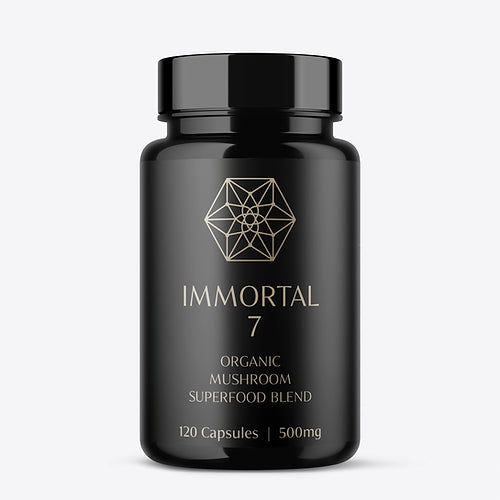 Immortal 7 - Organic Mushroom Superfood Blend (120 Capsules)
Sale price
$69.00
Regular price
Tax included.
Bundle & Save The more you buy, the more you save!
28 people are viewing this right now
Estimated Delivery:Dec 11 - Dec 15

Free Express Shipping over $100 (within Australia)
Product Description
Reviews
Shipping & Return
Each Bottle of Nature's Body Immortal 7 Organic Mushroom Superfood Blend contains 120 Capsules (500mg each) of 7 of the most renowned medicinal mushrooms:
Reishi "The Mushroom of Immortality"
Shitake 
Turkey Tail 
Cordyceps
Maitake 
Lions Mane
Chaga 
Each capsule contains:
Certified organic Reishi, Chaga, Turkey Tail, Lion's Mane, Cordyceps, Shitake, Maitake
Vegan capsule: Hydroxypropyl methyl cellulose
Directions:
Take 4 capsules daily with a meal, or as directed by your healthcare practitioner.
*These statements have not been evaluated by the TGA. This product is not intended to diagnose, treat, cure or prevent any disease.
The information provided on this webpage is not intended to be medical advice or to replace professional medical advice, diagnosis or treatment.
This product should not be used to treat, cure or prevent any medical condition and is not to be used for therapeutic purposes.
We make no guarantee as to the results that you may experience from using this product or the information we make available on this webpage. Your results will depend on many factors, including but not limited to your age, gender, other products used, health history, exercise regimen, lifestyle and diet.
Please check with your health practitioner before making any changes to your diet or taking supplements, especially if you are pregnant, lactating or have a health condition. Always read directions for use carefully.
Immortal 7
I suffer from anxiety and depression well can I say I did Mornings where my worst but now OMG since taking immortal 7 I don't have all the anxiety and depression it is amazing I really can't believe how wonderful I feel I want to get up in the mornings and take on the world I can't remember when I felt this good I'll say it again Truly Amazing
Immortal 7 - Organic Mushroom Superfood Blend (120 Capsules)
Helps my focus
Am currently studying and have found this beneficial for my concentration
Clearer mind and improved focus
I have been taking that blend for a few weeks now. It has helped with mood and focus. The most significant improvement I noticed was a much clearer mind throughout the day. I work full time and study at night and that product definitely helped.
IMMORTAL
Ottimi funghi curativi. Azienda molto seria, ma arrivano in ITALIA i prodotti ordinati arrivano un po' in ritardo....
We deliver our products using Aus Post. Shipping costs for most purchases are a flat rate - currently FREE for regular post under 1kg & $7 for express under 1kg - and will be added to the order total before checkout.
Orders over 1kg or International orders will be calculated depending on weight and location and also will be added to the order total before checkout.
Orders are usually dispatched within 1 business day. Shipping times are estimated at between 1 - 5 business days, depending on your location and depending on whether you choose express (1-2 days) or regular post (2-5 days).
Shipping Destinations :
Nature's Body Health ships goods Australia wide and internationally.
Refund policy:
Please choose carefully. We do not normally give refunds if you simply change your mind or make a wrong decision.
You can choose between a refund, exchange or credit where goods are faulty, have been wrongly described, are
different to the product purchased on the website or arrive broken from mishandling.
If you are simply not happy with the product/s for any other reason please contact us and we will asses whether a refund/replacement is possible.
All transactions are processed in Australian Dollars