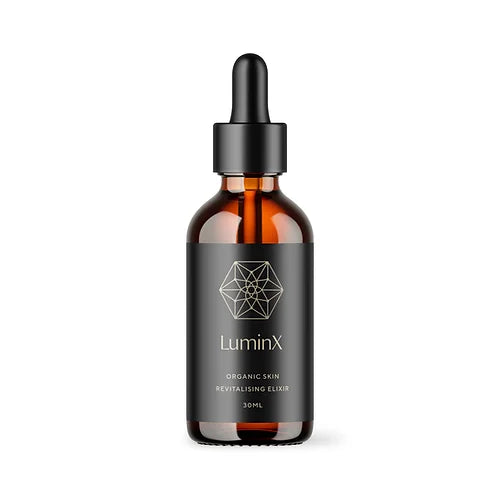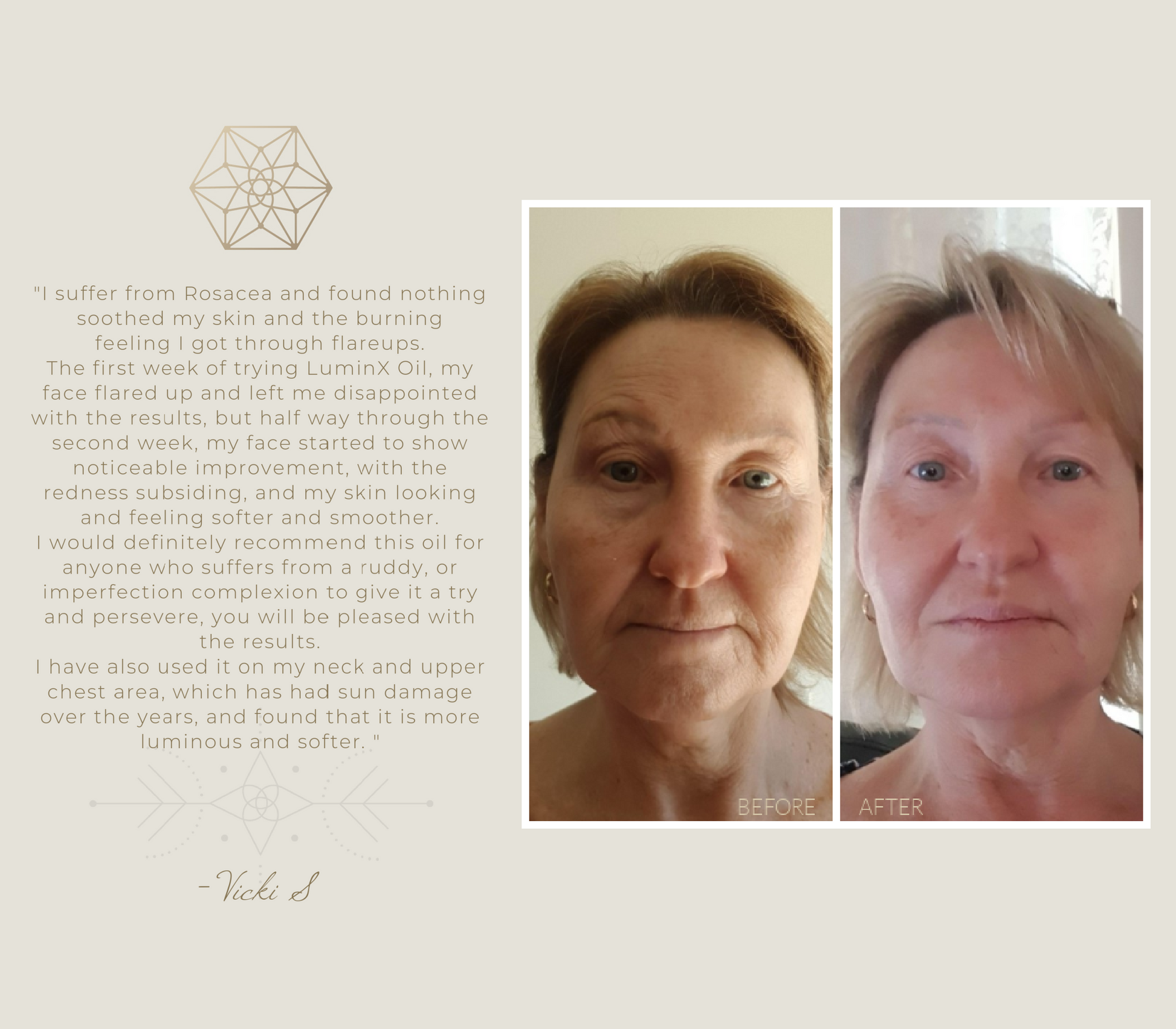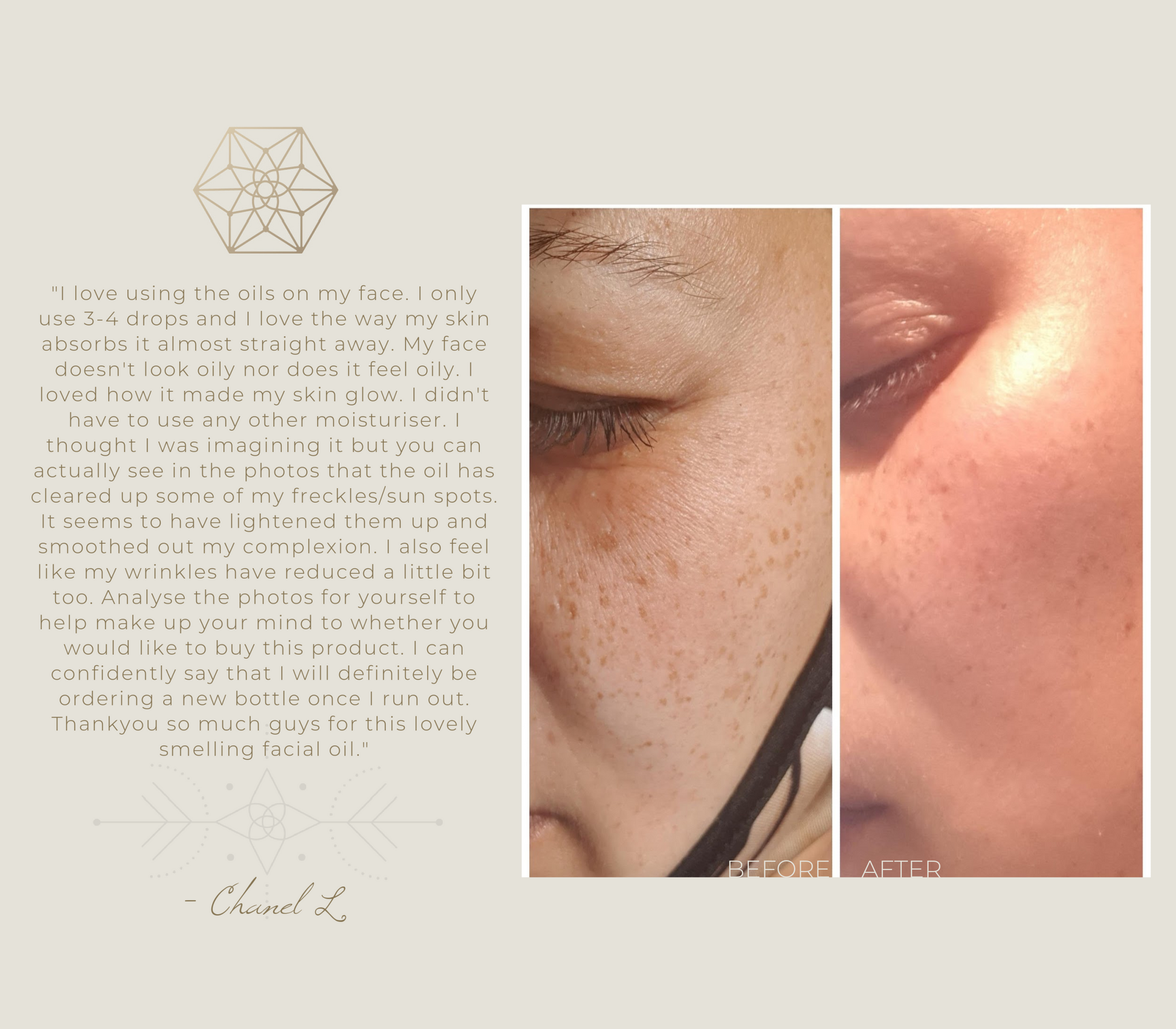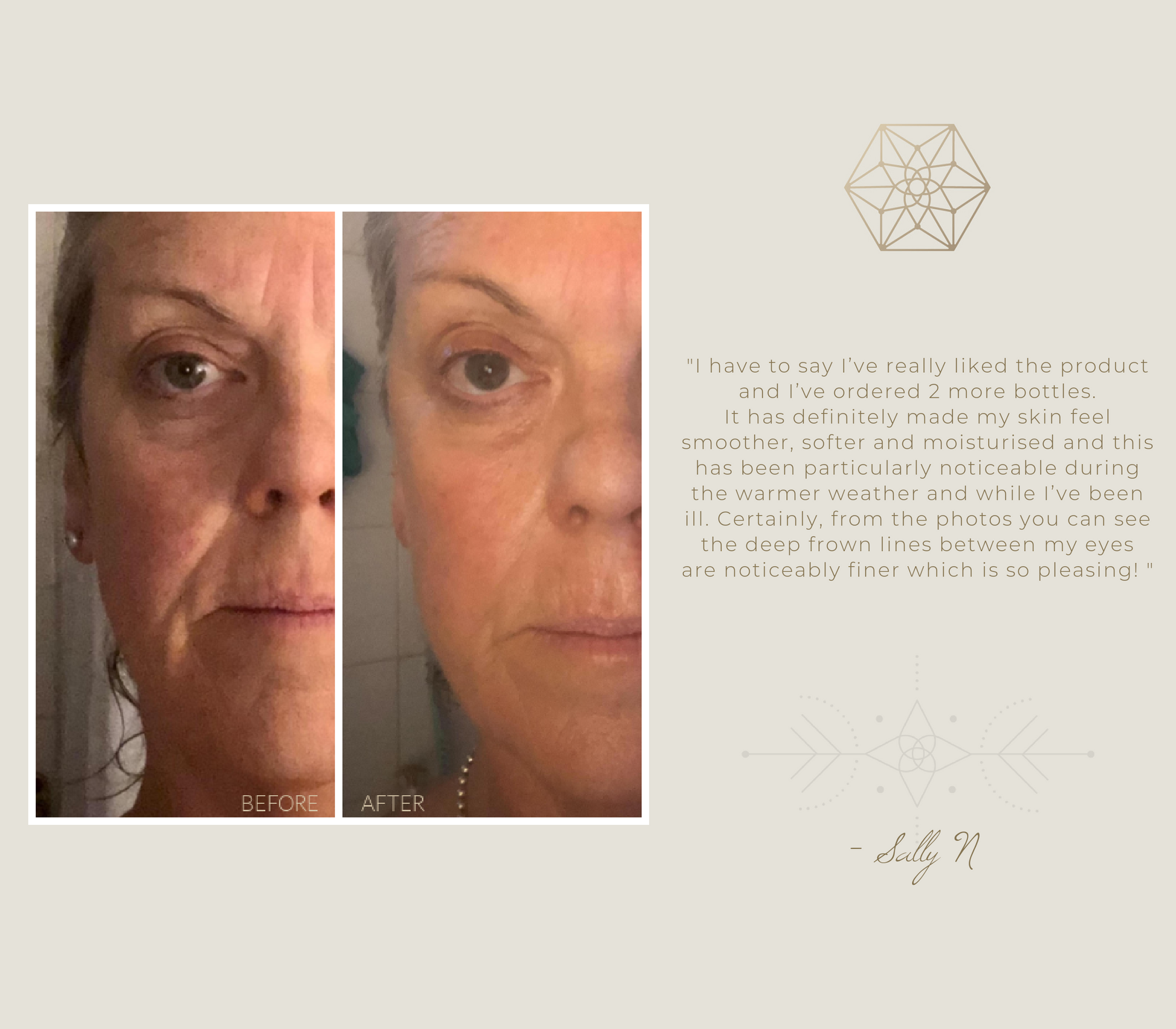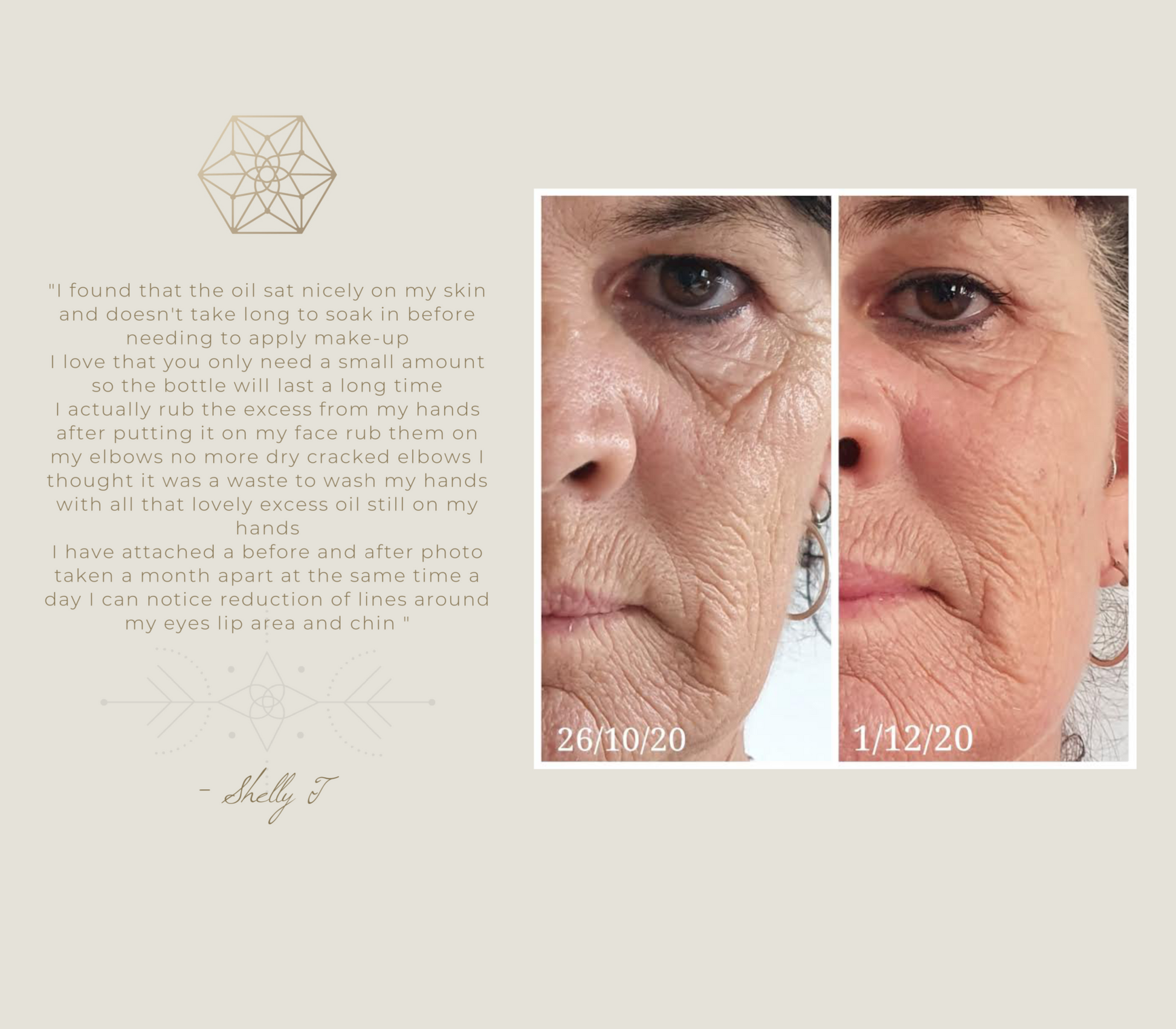 LuminX - Organic Skin Revitalising Elixir 30ml
Sale price
$59.00
Regular price
Tax included.
Bundle & Save The more you buy, the more you save!
20 people are viewing this right now
Estimated Delivery:Dec 11 - Dec 15

Free Express Shipping over $100 (within Australia)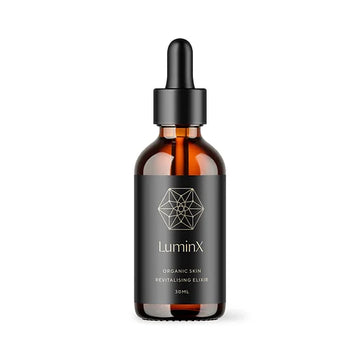 LuminX - Organic Skin Revitalising Elixir 30ml
Sale price
$59.00
Regular price
Product Description
Reviews
Shipping & Return
LuminX - Organic Skin Revitalising Elixir
LuminX is created by using ten certified organic oils, blended together to form a potent regenerative skin elixir. This liquid gold penetrates deep into your skin, leaving it luminous & moisturised, whilst reducing fine lines, wrinkles. and acne.
Each ingredient is carefully selected to have its own unique healing properties.
INGREDIENT LIST: Hemp Seed oil*, Jojoba oil*, Maracuja oil*, Pomegranate oil*, Evening Primrose oil*, Camellia oil*, Lavender pure essential oil*, Geranium pure essential oil*, Rosehip seed C02 extract*, Rosemary antioxidant extract* (in certified organic sunflower oil less than 0.01%) * Denotes certified organic
With a base of organic cold pressed Hemp seed oil LuminX regenerates the skin at a deep cellular level. Hemp Seed oil adds intense moisture, whilst not giving you the appearance of oily looking skin, due to it being noncomedogenic. Consisting of all 3 omega acids (3,6,9) Hemp seed is an all rounder skin perfecting oil, healing, soothing and adding shine to your skin.
Pomegranate oil, referred to as 'Nature's Power Fruit' boasts powerful rejuvenating, anti-inflammatory, antioxidant, anti-aging and anti-microbial properties, as well as having a high vitamin E content which is notorious for reducing hyper-pigmentation and helping to prevent wrinkles.
Maracuja oil has a high linoleic, vitamin c and lycopene content, keeping the skin moisturised and is ideal for soothing dry, flaky skin, preventing free radical damage and acne.
Jojoba oil is found in a vast amount of skincare products and there's a good reason why. Jojoba oil is chemically and structurally the most similar to human sebum, meaning it mimics the structure of the skin. When applied to the skin it levels out oil imbalances that would normally cause clogged pores/acne as well as deeply hydrating it. This is one of the oils that allows LuminX to work wonders on all skin types/conditions.
Evening Primrose Oil has the one of the highest concentrations of gamma-linolenic acid (GLA) of any plant. GLA is an omega-6 essential fatty acid that's vital to cell structure and the elasticity of the skin, when topically applied it can drastically improve the appearance of fine lines/wrinkles and is used as treatment for dry skin and eczema.
Camellia seed oil is rich in vitamins A, B, C & E and has great moisturising properties for treating dry and/or mature skin and improving skin elasticity.
Rosemary antioxidant extract is derived from the leaves of the Rosemary plant, and is high in anti-oxidant properties. In addition, it has also been reported to have some antimicrobial, antibacterial and antifungal properties, aiding to fight bacterial acne breakouts.
Rosehip seed C02 extract is a highly concentrated, naturally formulated extract. The C02 extract stimulates the production of collagen and contains high levels of vitamin A/retinol helping to combat sun damage and wrinkles. The essential fatty acids in Rosehip seed oil give it moisturising properties and the antioxidants and beta-carotene may also help to prevent signs of ageing.
Geranium pure essential oil is well known or its skin tightening properties. Used medicinally, Geranium Essential Oil works as an anti-inflammatory and anti-septic agent making it wonderful for reversing excessive oil and bacteria, scars and unwanted spots.
Lavender pure essential oil is natural powerful antibacterial, meaning that it kills acne-causing bacteria that might infiltrate your pores.
DIRECTIONS: Wash and cleanse face. Add 5-6 drops of LuminX into the palm of your hand. Rub your palms together and spread a thin layer over your face and neck in small circular motions. Avoid the eye area. Do not rub hard. Use the oil when you wake up and before you go to sleep for best results.
I have an excellent results. My skin is radiating, healthy and rejuvenated. I'll keep ordering your Skin Revitalising Elixir in future. Thank you
We deliver our products using Aus Post. Shipping costs for most purchases are a flat rate - currently FREE for regular post under 1kg & $7 for express under 1kg - and will be added to the order total before checkout.
Orders over 1kg or International orders will be calculated depending on weight and location and also will be added to the order total before checkout.
Orders are usually dispatched within 1 business day. Shipping times are estimated at between 1 - 5 business days, depending on your location and depending on whether you choose express (1-2 days) or regular post (2-5 days).
Shipping Destinations :
Nature's Body Health ships goods Australia wide and internationally.
Refund policy:
Please choose carefully. We do not normally give refunds if you simply change your mind or make a wrong decision.
You can choose between a refund, exchange or credit where goods are faulty, have been wrongly described, are
different to the product purchased on the website or arrive broken from mishandling.
If you are simply not happy with the product/s for any other reason please contact us and we will asses whether a refund/replacement is possible.
All transactions are processed in Australian Dollars